**********************************
Starting May 2008, the Muscular Development Women's Forum Leaders will be bringing you one-on-one interviews with your favorite pros, amateurs, coaches, and MD forum members. We encourage you to ask your own questions in these threads, as Tina and other, future interviewees will come online to answer them. Please be respectful. There are no exceptions to this rule and you will be banned from this site for any disrespectful posts in this forum.
SallyAnne
Moderator
**********************************
Women's Forum Leader Gaoshang Xiongshou interviews Dayana Cadeau.
------------------------------------------------------------------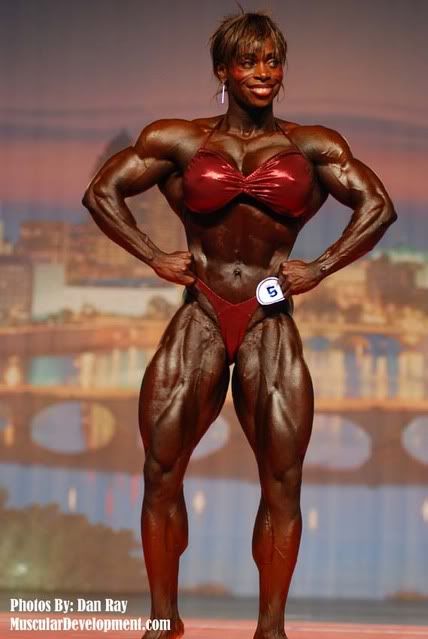 Where are you from and what was it like growing up?
Dayana Cadeau: I was born in PORT-AUX-PRINCE HAITI (Carribean)
Were your parents strict while you were growing up? Did you ever sneak out of the house?
My parents were very strict but at a certain point NOT crazy strict. I have to admit I was a very quiet child, my mother always told me how quiet i was and an easy going child! I never really did anything crazy because my mother raise me with my grandparents, they teach me the good and the bad at my yound age, I did have to choice growing up to be a bad girl or a good girl. So I choose to be a good girl, doesn't mean I was perfect. You know what I mean!
Who was the female bodybuilder that got you interested in bodybuilding?
The female bodybuilder who got me interested in bodybuilding it's Cory Everson. I always find her so pretty as well Rachel McC. don't remember her last name. But I find thoses wemen beautiful even with muscle keeping their feminity because that being always very important to me!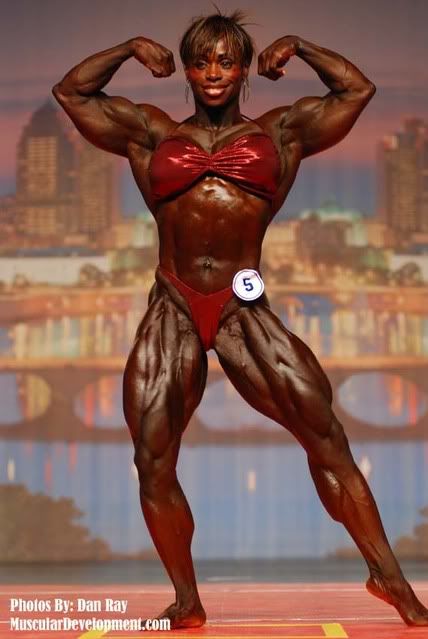 What made you decide to compete for the first time? What show was that?
I had a friend who was a personal trainer and he invite me to go to see a bodybuilding show one day! I was a little bit afraid because I didn't want to lose my beauty and feminity. But when I saw some of the women look good, also seing pictures of Cory, I said to myself "Why not try it; maybe I will like it? It was a local show in Canada Quebec City where I grow up, it's call "QUEBEC METRO" it was in 1990, been a while. I'm a old lady.
If you could pass on your knowledge to a newcomer, what would be the most important thing you could share?
My advices to the new one who start to compete is: being yourself, stay feminine and sexy, don't change your personality, be a high class lady all the time! More important being positive and confident all the time, REMEMBER you always a champ especially when you work hard to get there!
How do you choose your posing music? What inspires you the most when choreographing a routine?
I'm trying to be myself and feel the music but I'm learning with my boyfriend Kai to be more creative and entertaining at the same time.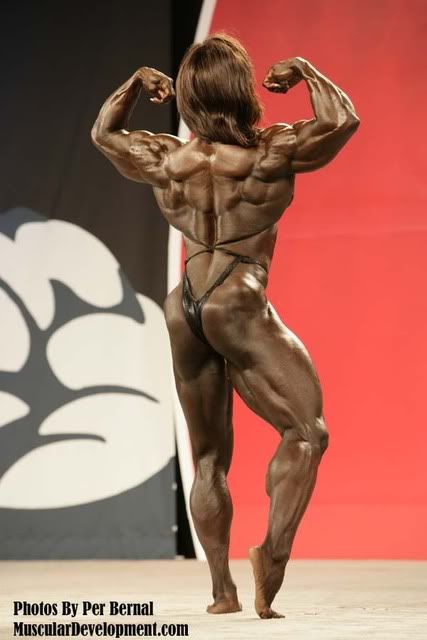 Kai has gained attention for his creative posing routines, and you have as well. Is there a possibility of a paired posing routine with the both of you one day??
Kai and I, we are thinking in the future to do posing routine together. I can't wait! It's pretty exciting, especially when you are a couple who love each other. Right now, we are very busy, but when Kai move to Florida with me soon, we will start working on it for sure!
You have won the Lightweight Ms. Olympia, and the Lightweight class at the Arnold Schwarzenegger Classic. Are those victories just as sweet as winning the Ms. Olympia and the Arnold outright would be? And if they are, what drives you to continue if you are at the top of your game?
YES, I have won twice the Miss International lightweight in 2001-2004 plus Miss Olympia lightweight 2004, it's a sweet victory for me and I will WIN the OVERALL Miss International and Miss Olympia soon. Even I didn't win the Overall of thoses two shows, I already won them once, so I'm still one of the best in the world beside Iris Kyle! What drive me continue it's because i love challenge and I love the way my body look; the older I'm getting, the better i look at 42. I thank God everyday for that!
You have been up against some stiff competition in your career, and have always convincingly held your own. They have gone, and you have outlasted them all. What do you attribute to this?
The reason I'm still competing... it's because i'm a SURVIVOR. I NEVER gave up, no matter what if i feel i have to going on i will. I'm healthy, thank God. Also bless by an amazing physique, and I'm always going to be thankful everyday for that! This sport did make a STRONG, SMART AND WISE woman of me for real. I learn to be a good business person, creative, being positive and patient! When i turn pro, I've been doing my diet, training on my own. I don't have a Trainer or anything, so i made mistakes and get to know how my body react so i can improve and be better each time.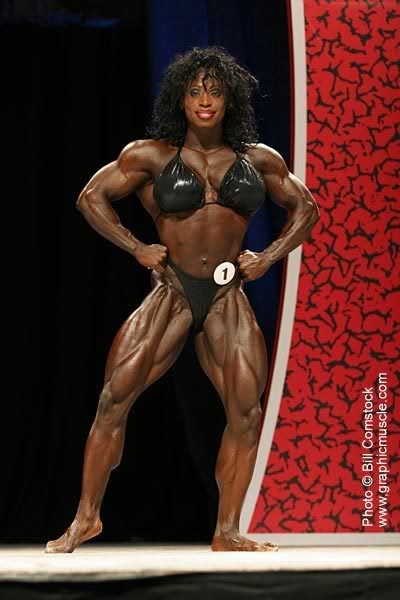 What was it like to compete against the likes of Lenda Murray, Joanna Thomas, Andrulla Blanchette, and more of the other well known names in the sport?
To compete against somebody like Lenda Murray, it was a blessing and an honor, that woman is a legend; also a very nice lady with class. That's why i admire her so much. She is my role model and I want to do what she did for women's bodybuilding... represent them well!
Do you like to travel? What is your ultimate fantasy vacation? Once your competitive career is over, could you see yourself retiring there?
I love to travel, but busy like I am right now, plus the shows don't give me much time to. My favorite place to go... it will be Hawaii can you imagine? I went everywhere but NOT there yet. Do you want to know a secret? The reason I never went yet honestly, it's because I always want to go there with the man I really love. I did [meet this] this man his name is Kai Greene! We were suppose to go after the Arnold this year but he had to get ready for the NYC Pro Show, so NO vacation. We still thinking to go maybe before the Olympia or after. We will see???? Where I will retire, I can't tell really i don't know yet. Again, I want to be where the man of my life is so hopefully we can retire somewhere we love together. I live in Florida right now in the sun everyday so we'll see.......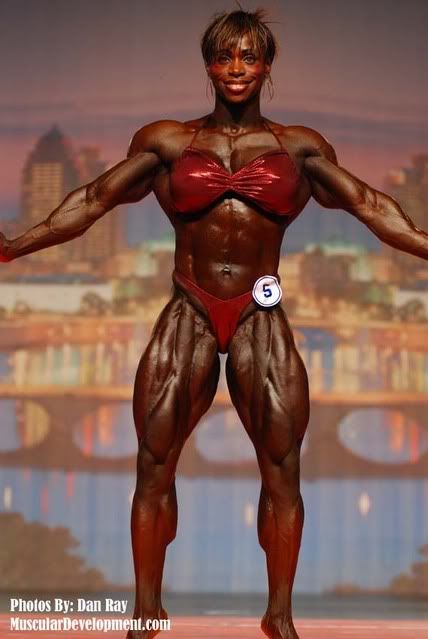 Dayana, thank you so much for taking the time out of your busy schedule to answer a few brief questions for the members of musculardevelopment.com. We look forward to your interaction here with us!!
Name:
Dayana Cadeau
Place of Birth:
Haiti (Carribean)
Date of Birth:
June 2nd, (Gemini)
Home:
Now living in Florida
Occupation:
Esthetician, IFBB Pro, Model, Personal Trainer
Measurements:
38DD, 24, 35
Weight:
140 lbs. (off season); 128lbs-130lbs (contest shape)
Height:
5' 4" 1/2
Eyes:
Light-Brown
Bodybuilding Background:
Been competing for 13 years
Turned Pro in 1997
Favorite Body Part:
My legs
Favorite Body Parts to Train:
My back and abdominals
Favorite Food:
Italian and ice cream
Favorite Colours:
Red, Purple and Black
Hobbies:
Reading and listening to romantic music
Favorite Lingerie:
Black lace panties
Look for in a man:
Honesty, respect, love and passion
Personality:
Seductive, playful, loving
Biggest Fear:
To be disapointed from men all the time.
Biggest Turn-off:
People who lie to me about anything
Career Goals:
Winning my next competition
Work hard to promote myself
Personal ambitions:
Just to be happy and have a beautiful family one day
Contest History:
1992:
Quebec city, Overall
1993:
Provincial show, Montreal, Overall (Heavy weight)
1994:
2nd in the Canadian show, 2nd, Women's Heavyweight
1995:
Canada Cup 3rd, Women's Heavyweight
1996:
Canadian Championship, 2nd, Women's Heavyweight
1997:
Won the woman heavy weight, Overall(Turned Pro)
1997:
Jan Tana Classic, 10th
1998:
Jan Tana Classic, 3rd
1998:
Ms Olympia, 11th
1999:
Miss International, 10th
1999:
Women's Extravaganza, 6th
2000:
Jan Tana Classic, 2nd (Light Weight)
2001:
Miss International, 1st (Lightweight)
2001:
Miss Olympia, 3rd (Lightweight)
2002:
Miss International, 2nd (Lightweight)
2002:
Miss Olympia, 5th (Heavyweight)
2003:
Miss International, 4th (Light weight)
2003:
Jan Tana Classic, 1st (Middleweight)
2003:
Miss Olympia, 2nd (Lightweight)
2004:
Ms International, 1st (Lightweight)
2004:
Miss Olympia, 1st (Lightweight)
2005:
Ms Olympia, 3rd
2006:
Ms International, 2nd, Miss Olympia, 2nd
2007:
Arnold Classic, 6th; Miss Olympia, 2nd
2008:
Arnold Classic, 2nd