Women's Forum Leader Gaoshang Xiongshou interviews Mike Pulcinella
For all those aspiring to create a video package for their promotion in the future, I give to you insights and advice from our very own MD TV Community Channel Forum Leader, Mike Pulcinella. Mike, thank you for taking the time out of your busy schedule to answer a few questions for the members of MD.com. I am sure there will be a lot gained from your presence here!
Gaoshang Xiongshou:
What are you exactly (videographer, director, documentarian, etc... for those not familiar with you)?
Mike Pulcinella:
I think my strength is in editing. I suppose you could call me a "videographer" but only because I shoot my own footage out of necessity. I don't enjoy shooting and I don't really think that my camera skills are "all that" but I do know what I'm looking for and I have learned how to shoot for my editing style so I guess that's the most important thing.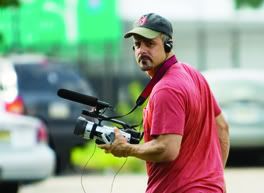 I used to say that I am "trying" to be a documentary filmmaker. I said that one day a few years ago to a little old African-American lady when asked me what I was doing while I was shooting some footage down at Penn's Landing Riverfront in Philadelphia. She replied, "Trying?? There ain't no TRY, honey. Either you are or you ain't," and she walked away, changing my life forever.
Gaoshang Xiongshou:
What is your formal background? School?
Mike Pulcinella:
I have no formal background in filmmaking. I never went to film school. However, I was an art major in high school, a professional musician throughout my 20s and 30s and an amateur journalist from time to time. I bring those skills with me every time I shoot or edit. In addition, there are some great storytellers in my family. The pressure to perform at family gatherings was enormous. If you took the floor you'd BETTER had a good story to tell, it'd BETTER be really funny or really sad and there BETTER be a good ending or else you'd get torn apart! Combining art, music and a love of storytelling is what filmmaking is all about so even though I fell into this in my 40s I feel like I've been preparing for making documentaries my whole life.
Gaoshang Xiongshou:
What was it that got you into doing video? What made you decide on video as your medium? Have you focused on any other subject types for your productions? If so, what drew you to bodybuilding videos?