Forum Leader GymDiva interviews
fitness competitor Lishia Dean.
The Beginning:
I remember you from middle school...skinny, glasses, curly hair…then years later I see you in your first fitness show in the 2004 Elite Muscle Classic…and via myspace I learn you once competed in powerlifting…
SG:
How did you become interested in powerlifting?
LD:
I always lifted pretty heavy but after college I met up with an "ole man" named Red Swaim. He was 64 years old and still competed in powerlifting. He approached me in the gym one day after seeing me lift and told me to meet him in the gym the next day for a deadlifting workout. So I did. It all started there!
SG:
Describe your experience with competing in PLing…
LD:
Well, I held the NC state record for a while. I was very good at the deadlift, decent at the bench and squat was my weak point. I came 25lbs from making the USA team. My last deadlift was in April of 2005 at Red's Memorial meet (he passed away that January). I deadlifted raw that day and did my personal best of 370lbs.
SG:
Do you think you'd ever take it up again in the future?
LD:
I don't think I would in a competitive way. Every now and then in my off season of fitness I go in an see if I still have it. I wouldn't mind doing local meets for fun though.
Your transition to fitness:
SG:
How did you first become interested in fitness?
LD:
Once Red passed away powerlifting just wasn't the same. I felt like I had more with competing in some fashion. I had always been involved in some kind of dance and thought if I could combine that with my love for lifting, maybe I could do a fitness show one day. My boyfriend (now husband), Matt went to the Arnold that year and met Jen Hendershott. He came home with some information about her Phat Camps, it was actually her website
www.getphatwithjen.com
So I went on there and found one. I went to her Jacksonville, Florida camp. Five months later she had me on stage with a fitness routine taking the Overall placing and then going to Nationals 2 weeks later.
SG:
Describe that first Elite show [in Greensboro, NC]…
LD:
This was amazing. The diet was tough but when I got on that stage I thought to myself "every can of tuna was worth it!" I will say my routines have improved tremendously because the first one was not pretty but that is what it is about, improving on yourself.
SG:
Other than your placing, was there anything that made you decide fitness was for you and not figure?
LD:
Yes, I DIET 12 weeks for that 2 minutes on stage! Seriously! I love to perform, it is in my blood. I respect figure competitors and have many friends that compete in it, but I just love that routine round!
SG:
How was your first trip to nationals right after doing the Elite?
LD:
It was exciting and very different than the local show. So anyone out there wondering if they should take it to the next level…yes you should! I wanted to go there and see the changes I needed to make to my physique and routine. Sometimes there is not a lot of competition at the local level, especially in the fitness division. So this helped me see what I needed to do to improve. I ended up placing 10th my first time out and was very excited.
National Level Competing:
SG:
You've been competing on the national scene since 2004…drawing from your experience, what's one of the biggest lessons you've learned from it all?
LD:
Remember why you love training, dieting, transforming, performing. Many girls take this way too seriously and start to lose themselves or let competing take over their life. When I go to compete it is the TEAM competing with me…meaning my husband, Jen, the staff of Phat Camp and GetPhatOnline.com and my friends! Listen to the judges, but remember we all have opinions and particular likes/dislikes.
SG:
For a beginner looking to do her first national show, what advice can you offer to help make the transition from local to national smoother?
LD:
Go into the national level not expecting to win, but going to find out what you need to improve on. It is like going from middle school to high school. You immediately drop to the bottom of the pack and have to work your way back up.
SG:
What's your favorite memory/moment so far?
LD:
The first time I made top 5! The top 5 get to perform their routine at night and for the first 3 national shows I didn't get to. 2007 Jr Nationals I did get to do my routine that night, which meant I made the top 5 for the first time ever! I ended up placing 3rd in that show!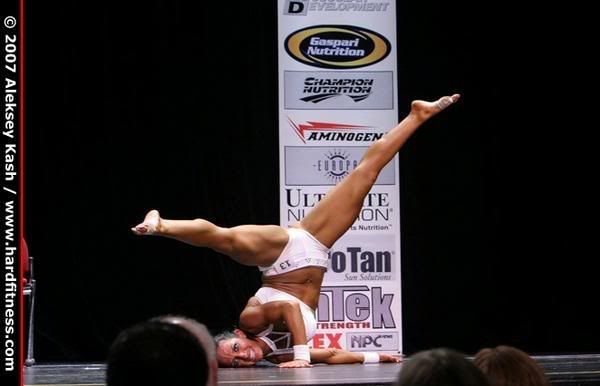 SG:
Does it ever get aggravating to win the routine round time after time but to come up short of that pro card?
LD:
Aggravate is not the word…more like determined! Even if I do not place where I want to, to win the routine round or place high in it make me very proud because that is the hardest part of the division and to me, is what makes the division distinguished as fitness.
Speaking of routines…
SG:
You are definitely known for your routines, both in performance and in choreography…was it always an easy flow for you from the start or has it developed over the years?
LD:
It was easy. Like I said, I danced all my life, was the captain of the cheerleading squad and danced for a semi-pro football team. I got my first routine choreographed by Jen Hendershott. My second one I created myself and had Jen look over it. She was so impressed that she asked me to be her Assistant Choreographer. So if there are any fitness girls out there that want a killer routine go to
www.jennyh.com
or contact me! I have a passion for this and love helping others with their routine. I actually choreograph a lot of girls routines I compete against and we have began great friendships from it.
SG:
When training for routines, do you/did you take any extra classes, such as dance, gymnastics, etc…?
LD:
No extra classes, just what I had in the past. I took gymnastics until I was 15 but that was it. As you see in my routines I do nothing more than a cartwheel and still place high in the round. So I am an example that you do not have to have a gymnastics background to be successful in fitness. I would like to thank competitors like Adela Garcia for paving the way for this!
SG:
When training do you utilize methods like plyometrics, HIIT, etc…?
LD:
Yes. If you have never experience Jen's style of training your should at one of her camps. This is how I train everyday and it does include plyometrics, etc. I also do lots of sprinting, stadium stair running and bootcamp classes.
SG:
How do you go about deciding a theme? How about a theme for others?
LD:
Well, you have to do what fits your personality. I think about the kind of music I like and what have the judges not seen. You want to be unique and stand out. I also like to put different twists on my routine. For example, drinking a can of rockstar in the middle of my last routine.
PHAT CAMPS:
SG:
Feel free to tell us all that you'd like readers to know about Jen's PHAT Camps (your capacity in them, what to expect, why one should take them, etc…)
LD:
I am excited to be a part of Jen's staff for PhatCamp and her GetPhatOnline.com Coordinator. PhatCamp is great for any woman. The camps welcome and cater to any level. A lot of people think this is a camp for competitors. We welcome competitors but the majority of the camp is general women looking to be healthy and get fit. There are so many components to the camp…training, nutrition, seminars, physical and mental activities and the STAFF. We are a crazy, wild, fun bunch (but how could you not be working with Jen!)…
I know you're only two weeks away from Junior Nationals…
SG:
How excited are you about this year's show?
LD:
I am very excited. This is where my success started last year and I am anxious to go back. I feel good about the package I am presenting this year. I have made a lot of changes over the past 4 years. I still have some work to do, but I hope the judges will remember where I started and how far I have come.
SG:
Anything new we can expect to see?
LD:
Well, not for the routine. I just came off of Jr USAs 4 weeks ago so I am sticking with the same routine. But at Team U, oh yea….I have a great routine in the works right now! I am trying a few different things with my diet to change my physique a bit in the short time I have.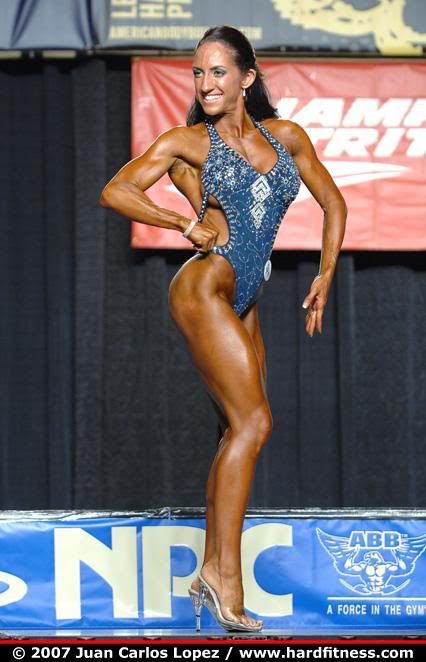 The state of fitness:
SG:
How do you think competitors can help to revive fitness?
LD:
I think they need to quit thinking they can't do fitness "because I don't have a gymnastics background". I hear this all the time. You just need to learn the mandatory movements, have a great choreographer create something that works for your skill, talent and personality and then have the courage to do it!
SG:
What are your thoughts on the revamping of the pro cards and the shows that they're offered at? Do you think that will ultimately hinder more women from wanting to earn a pro card in fitness?
LD:
It shouldn't. I like it actually. I always enjoyed the National show in November but dieting late in the year and so close to the holidays was so challenging. This year after Team U in Sept, that is it! I like they decided to offer one at Jr USAs and a few at Jr NATs.
SG:
If you were in charge, what changes would you implement in order to get more women into the sport of fitness?
LD:
I would try to offer one more Jr level show for that transition from local to National levels. I often hear of the intimidation the girls have going from these 2 levels. If I had more time and knew there was interest, I would love to offer seminars on the basics of how to get started. Ummm, something to think about!
Feel free to take this space to plug anything you'd like…thanks so much Lishia!!!
I would love to talk to anyone who is interested in competing, wanting to get fit or needs a routine and encourage you to contact me at
[email protected]
or visit me at
www.lishiadean.com
I also welcome all women to Phat Camp, any man, woman, or competitor to the Get Phat Online program. Also, check out Jen Hendershott's new workout DVDs! They are raw, real and hardcore…
www.jennyh.com
!
Be sure to visit our websites:
www.getphatonline.com
www.getphatwithjen.com