GYMDIVA's 1 ON 1 WITH IFBB FITNESS PRO MANDY POLK!!!

Personal...Let's get to know you better:
GD: Where were you born and raised?
MP: Memphis, TN
GD: Were you athletic and active as a child?
MP: When I was in kindergarten/first grade my P.E. teacher wrote on my report card "is weak and has poor stamina" ha! That year or the next I started gymnastics and that really turned things around for me. After that, I cheered competitively in high school and won three national titles. Now I actually train the man who owns the cheer organization I competed in! How ironic is that? That would be like training Jim Manion, for all you competitors.
GD: What do you do for a living?
MP: I am a personal trainer and nutritionist, I specialize in contest prep, but it takes all kinds. I have a general fitness client who's lost over 70 pounds in 6 months. I also do choreography for fitness girls as well as teach conditioning and posing classes.
GD: What do you enjoy in your free time?
MP: Hit golf balls (I want to get out on a course soon!), play on the forums (bad habit!), read for pleasure, and do things with my girlfriends. I also do detailed sketches of fitness/figure girls and bodybuilders. They're so fun because of the deep shadows and lines.
GD: What are your personal goals in life? (not competition related)
MP: To live with integrity and always keep learning. I'm also starting a book.
Competing: Let's start at the beginning…
GD: When was your first exposure to competitions? Describe that experience…
MP: I saw fitness girls in the magazines. I thought they looked perfect except for the lumps under their armpits. I covered up their lats with my fingertips and said, "Now THAT is what I want to look like!" When I learned about the V-taper's importance, back quickly became my favorite bodypart to train and now it's much wider.
GD: What made you decide to start competing?
MP: To "test the waters" I did a 4-week diet and choreographed a little fitness routine to perform at my high school pageant held for the senior girls. I didn't win but I got the best crowd response of any other talent and I loved doing that kind of performance. I was hooked!
GD: How long have you been competing now?
MP: For 5 years, since I was 18. I started my first contest diet one week before high school graduation.
GD: Describe your first competitive experience…was it scary? Exciting? What you were expecting? Anything go awry?
MP: I was really excited, I loved it. My first show was the Jan Tana in 2003. Nothing was perfect, I was so young, but I knew I wanted to do it again.
GD: Describe earning your procard…was that your goal from the start or just an added bonus to the fun of competing?
MP: I think earning a procard is a good goal for anyone who competes that has decent genetics. I about died at the show where I earned it though.
I had major surgery on my foot in late July or early August and the show was in November. I had suffered 4 major fractures onstage at the Team Universe. My prep for Nationals after the injury was painful and difficult, but I really wanted to do it because I never finished everything at Team Universe. I did the second half of my routine with my foot like that but wasn't allowed to go back for the physique rounds. I don't think I could have stuffed my foot in a clear heel anyway.
So for the Nationals, I did a lot of my training while I was still on crutches or wearing one of those walking boots. I would practice strength moves with my boot on and eventually went to ankle weights. I got off my crutches when I was about 8 weeks out. I couldn't walk well without the foot swelling a lot until three weeks out, so I had to nail down that routine fast. I just knew I was "on" when I went that weekend. I felt really confident and it was my best conditioning to date. There are some great girls in the tall class at the national level. At the time there was Nicole Wilkins who's now qualified for the Fitness and Figure Olympia, and Michelle Mayberry who's placed top 5 in Pro Fitness and done well in Pro Figure too, I believe. Sandy Stuart is always good also. So I definitely had my work cut out for me but I had really done my homework and felt great. I suffered a lot before that show and by the time I got there, I was thinking I didn't care how I placed because I would leave it all out on the floor, I had nothing else to give. The results were a huge surprise and I couldn't have been happier.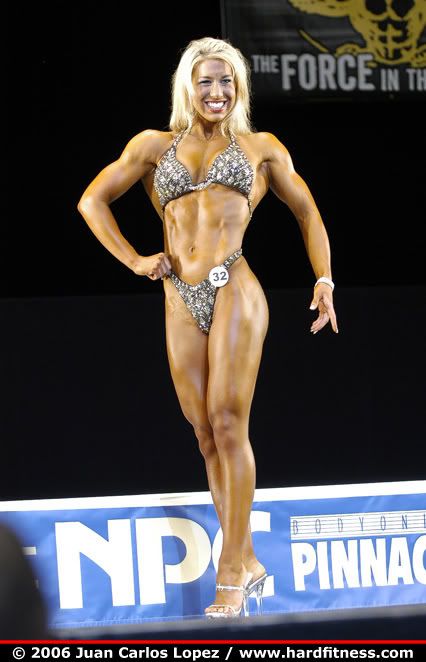 2006 Pro Card Win
GD: Are you saddened at all that they took fitness out of NPC Nationals where you earned your procard?
MP: A little. First of all, because I'm going to watch Nationals, my good friend Randy Moore is competing in Bodybuilding (and looking CRAZY right now!) and also because I think there should be as much fitness as possible in the pro and amateur ranks.
Mandy and Randy!
Future: Let's look into the crystal ball…
GD: Are you planning on any pro shows this year? If so, which one(s)?
MP: hmmmm..... I don't know, I guess we'll have to see.
GD: How long are you hoping to continue competing on the pro level?
MP: As long as I'm having fun. When it's not fun or it doesn't benefit me to do it I have no problem hanging it up. I'd like to give it a good five years. I'd still be under 30 when I "retire" if that was the case.
GD:What is your ultimate goal for competing? Is it a particular show? A particular placing? A particular conditioning or routine?
MP: Just like winning my card, the goal is simply to leave it all out on the floor. To know my heart was in it and I couldn't have possibly worked harder or smarter. If I approach it like that then there's no way I'm not at my best.
Advice: For anyone from first timers to seasoned vets…
GD: If someone came to you wanting to get into fitness, what would be your first piece of advice?
MP: Don't diet stupidly. I've had thyroid and problems and experienced metabolic damage before, and I've seen it happen to so many girls. I think that a ton of the pro level girls have these problems and don't talk about it. It
's
tricky to fix, but can be done. My last set of tests came back better than good, and I've helped a lot of new clients that come to me with these problems. Diet for shorter periods of time if you can get away with it because extended dieting periods are bad for your hormones. I talked to a well known fitness pro long before my very first show and she suggested I diet for 12 weeks. I weighed 127 pounds at the time!! So I had about 5 pounds to lose. I needed 6-8 weeks. I think this (dieting way too long for what you need) is a good example of what dieting stupidly would be.
GD: Many talk about routines being too full of gymnastics, what's your take? What's your ideal routine when you're watching a competition?
MP: SOME routines are too full of gymnastics. But not the majority. Look at Adela. Miss Fitness O with virtually no gymanstics. Tracey Greenwood has handstands and that's about it. Jenny H does a few gymnastics moves but not a lot of running tumbling and more strength moves than anything else. Angie Semsch and Angela English have fantastic routines and no gymnastics. I've been scored down for too much gymnastics in the past and was encouraged to add more strength. I think the gymnastics complaint is an excuse girls make for themselves to jump into figure instead of giving fitness a shot. Don't get me wrong, I have a lot of friends in figure and I know firsthand how hard they work. But I think so many girls would rather not even TRY fitness; which is a shame because it's such a rush and it really gives you something to look forward to during your preparation period. My ideal routine would be clean, have a lot of energy and personality. I like a fast beginning that grabs your attention, slow strength moves to build suspense in the middle and a blitzkreig of activity and explosion at the end. Maybe some stripping of layers somewhere in there, that's always fun!! I love the wardrobe changes right in the middle of a routine.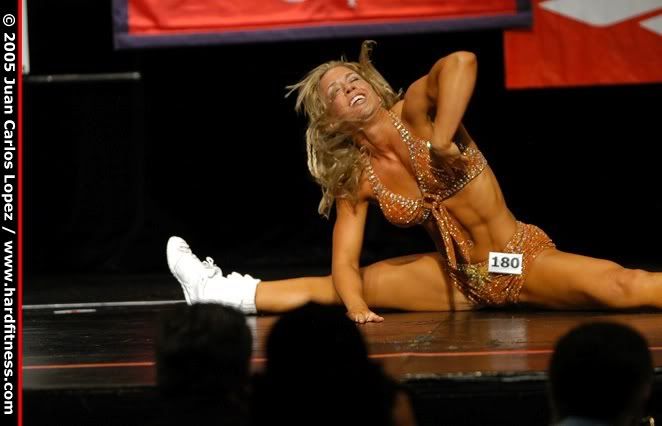 GD: What's your advice on outfits and props for routines? Do you think some competitors rely too much on props and don't focus enough on routine?
MP: I've heard Sandy Ranalli say she's never seen a prop contribute to a routine but has definitely seen it detract from it. I think the best thing you could add to a routine would be maybe a big box and do some moves over it and on top of it, but that's about all. As far as outifts go, I think you should wear whatever you feel comfortable moving around in and something that definitely fits your music or theme.
GD: What advice can you give on suit selection that would work for anyone?
MP: Dark colors. Don't sacrifice your fit for more stones. Always buy a better suit and stone it yourself if you have to. Don't try to even put a leg in your suit until you're 4-6 weeks out or you will depress yourself.

[email protected]

does great suits! She's always made mine and they fit perfectly every time. She's been in the industry since its inception and knows what will make you look your best. One of my client's mother makes an awesome suit, you can reach her at

[email protected]

.
GD: What seems to have helped your physique develop the most? Do you tend to do lots of plyos, drills, etc?
MP: Consistency. I've trained so many different ways and it's just the day in and day out consistency that gives you the biggest improvements.Your physique can always benefit from changing it up, and it just depends on what you need at the time. Plyos have been great for my vertical! I do lots of bodyweight movements, sprints, and weights also.
Fitness Future:
GD: One of the reasons why I chose you to interview is because you are a part of a dying breed which is the fitness competitor…what do you think can be done to help revive the sport?
MP: I'm not really sure....I think it just takes us girls getting out there and encouraging other people to do it! Tanji Johnson, Sandra Wickham, Jenny Hendershott and others really go out of their way to encourage people to do fitness. At the end of the day, it's a personal choice and many girls would prefer not to do a routine. The organization might need to come up with a way to make the idea of doing a routine more attractive and I don't know what that would be at the moment. As long as promoters and the organization meet their numbers with figure, they have no motivation to get more girls doing fitness. The shows aren't televised for the most part so their biggest concern is getting people in the seats. Who can blame them? They're spending a lot of money to put on a show. Since people will come to watch their best friend, their coworker, their girlfriend, etc. do her figure show, fitness isn't a huge priority. You see these local, regional, and state shows with no fitness or maybe 2-3 girls doing fitness and I think that's so sad. So many more girls could do it if they committed to it. I will say that fitness is really strong on the pro and national level because the ones who stick with it are very talented, passionate, and work incredibly hard at what they do.
GD: Do you think the current dip in competitors is temporary?
MP: I hope..... it can only get better so I would think it is.
GD: If you could fix one thing with fitness competitions what would it be? (ie, could be to make it more marketable, a simple rule change, etc…)
MP: I think the promoters need to put mats down for the girls at shows. Not a squishy wrestling-type mat, but a firm foam mat, like the kind used for cheerleading competitions. They actually do this for Women's Tri Fitness and it makes such a big difference. The girls are able to perform more high-flying tricks and up the difficulty level in their moves. There will be no motivation to do this until the organization enforces it, so this is something I'm working on. We don't want to wait until someone breaks their neck, which is a possibility given the surfaces we're currently on. I want to talk to all the pro girls and get them on board, and I already have some plans for obtaining the mats at reasonable prices. Then we will get a letter going, and it can be brought to the attention of the organization at their meeting at the end of the year. The only issue would be cost but that's something I'm working on as well. Any fitness girls interested please e-mail me and share your thoughts! I will be contacting you eventually anyway
When the plan is ironed out I don't see any reason anyone in the organization could oppose something that promotes safety.
GD: Any last words or mentions?
MP:I am extremely passionate about athlete safety and specifically about prevention of metabolic damage. My website will be up soon that will promote proper nutrition and safe fat loss. It's www.MandyPolk.com. You can compete safely and there are healthier ways to do this if you're in it for the long term. If you feel you're having problems now, you can get some answers here. Also, as I said before, I'm working on my book project but I still have a long way to go so I will keep everyone posted on that.
Thank you for the interesting questions!