Women's Forum Leader Gaoshang Xiongshou interviews Jennifer Lynn Cowan
I recently had the pleasure of speaking with the beautiful and effervescent Jennifer Lynn Cowan, Overall winner of the 2008 Jr. USA's. Take a few moments to see what was on her mind!
Gaoshang Xiongshou:
What was it that got you into bodybuilding?
Jen Cowan
I've always been an athlete. In college, I ran track on scholarship. I ran a marathon, and it just really wasn't what my body was made for. A trainer at my gym… I had been told that I throughout high school and college that I was pretty muscular… and a trainer at my gym said "Why don't you do a figure competition?", and I didn't know what that was at the time. And so I started looking into figure, and I did my first show about a little less than a year after the marathon, and I did Figure for two years. And then I crossed over to bodybuilding.
Gaoshang Xiongshou
What is it that makes you stay with bodybuilding?
Jen Cowan
It gives you the opportunity to train really hard, which I enjoy doing, and bring the physique that I want to bring onto the stage. With Figure, it was really hard, you know… you weren't sure if you were going to be too big, too hard, too soft… and I learned that you don't know what the judges want. It's always changing. At least with bodybuilding, you come in as lean as you can get, and try to keep as much size as you can. Also, it was really hard for me to train 12-16 weeks for a show, and just get up there and do quarter turns. You get to do a routine, get to show your personality a little bit, and it is just much more fun for me.
Gaoshang Xiongshou
Given the changes that are happening with figure now, do you think you would miss it, or ever consider going back to it?
Jen Cowan
(Laughs) At Jr. Nationals, there was something like 268 Figure competitors. I can't even imagine stepping onto the stage with that many girls. I don't know how the judges do it. I think it's pretty remarkable to be able to look at 40 girls in a class, and pick out the top 5. I would never go back. I know that bodybuilding, for me, is going to be just one more thing, because me being a natural athlete, there is only so much size I can put on. But I can't imagine ever going back to Figure. I have too much fun.
Gaoshang Xiongshou
It seems like a lot of women are leaving Figure for Bodybuilding. I am thinking these changes are going to kill it, the way it is going now.
Jen Cowan
No, from what I've seen these past couple of shows… the problem with Figure is that there's always going to be more and more Figure competitors. That's great, because people are starting to work out. But so many girls are getting marked down. The judges really are looking for a smaller Figure girl, and I think those girls who are in the last call-outs… people like me like their physiques the most because they're the hardest, the most muscular, and I know a lot of those girls, when I talk to them, I talk to as many people as possible about crossing over. If they just do it once, I think it's a good thing. There are so many Figure competitors, because it gives people the opportunity to see that bodybuilding could be an option for them.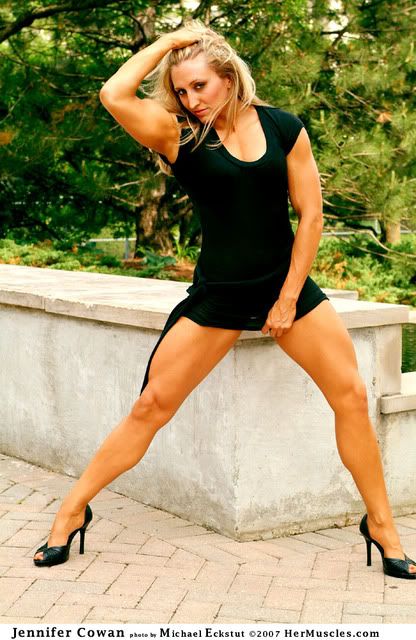 Gaoshang Xiongshou
Let's jump to your win at the Jr. USA's. Did winning the Overall, was that sort of like a vindication for natural athletes, being that that is a non-tested federation?
Jen Cowan
It was honestly shocking. I didn't really have any expectations going into the show, other than I just wanted to bring the best physique that I could. For the past three or four years, I have talked to a lot Figure competitors, a lot of bodybuilders, and I have always said that you can build a really great physique and be natural; that you don't have to do that. A lot of time, trainers will tell Figure girls, for their first show even, that everyone is doing it, you have to do it, and I'm telling them that I'm as big as I am, and I'm too big for Figure and I've never done anything, so you don't have to do drugs to be able to show that you can bring a great physique to the stage without having to do drugs. I don't want to make it about 'I'm a natural athlete; these people aren't natural'. I don't think that's what it's about. When you do a NPC show, you know that it's not tested. So for me, it was never about that. It was more of it being a smaller show, which is why I chose to do it. Hopefully, people will see that they don't have to make those decision, and that they can still compete without having to risk their health. Bodybuilding is kind of risky to begin with, and adding hormones and things that mess up your body to the mix only makes it worse.
Gaoshang Xiongshou
It is not really common for a smaller competitor to take the whole show, especially in this day and age of "bigger is better". Do you think this is the beginning of change?
Jen Cowan:
I think that last year, and maybe the year before, things started to change. I think they have started to try and transition to maybe a sleeker look. I hope so, because that's how I am, and that's how I want to continue to be successful in shows. I think they are definitely trying to make somewhat of a statement. I don't think they like the drug use, especially in the female side. So, I think it's always surprising when a Lightweight wins the show. Like I said, I was definitely surprised. Everybody at the show was. It was a pretty decent show for the Junior USA's.
Gaoshang Xiongshou
Take us back to the moment on stage when you were announced the Overall champion. What was going through your mind?
Jen Cowan
It was really surreal! I didn't think I had a shot at it. I had a lot of fun being onstage. I had a lot of fun in the posedown, and I though Lisa looked really, really great, so I had already thought that she was going to win the show. So, I was completely shocked . It was really overwhelming. Winning the Jr. USA's, the Jr. Nationals, you don't get a pro card… you don't get anything other than personal satisfaction. It was really amazing.
Gaoshang Xiongshou
What are your thoughts on the proposed Women's Classic Bodybuilding division?
Jen Cowan
In theory, I think it's great. I understand what they're trying to do. I don't really see it happening in practice, because for one, the shows are already pretty long. And to add that, especially on the national level… where would someone like Britt Miller compete? Most of us would rather do an open bodybuilding as opposed to the classis bodybuilding. I don't know… I just think it would be hard to implement. I like the idea of putting a restriction on the weight and height, but I don't know if it could actually happen.
Gaoshang Xiongshou
For the women who are afraid to lift weights and build muscle, what would you say to them to change their minds?
Jen Cowan
I think everyone has the right to have the physique that they want. My friends from high school definitely think I'm the oddball. But, I think for your health in general, everyone should work out and lift some kind of weights. I'm not saying really get big and bulky, but I think everyone should work out. It's a good thing to try and get bigger. Obviously, that would mean more muscle. Bigger is better (laughs). Does that make sense?
Gaoshang Xiongshou
It does. I know a lot of women are put off by the thought of winding up big.
Jen Cowan
(laughs) Women will come up to me in the gym and say, "You know, I want to lose weight, but I just don't want to look like… you". And I'm not even that big! When you see some of these girls onstage, these Figure competitors, they look really big, or they look really big in the magazines. But when I stand next to them, they are only 115 lbs., and dieted down. So I think there is a misconception on how big a figure competitor or bodybuilders are in real life. And when you see them, you see them oiled up. I think that, added to the misconception of building muscle, everyday women in general have too many issues with their weight. The number sometimes scares the women as opposed to being more muscular. They don't want to consider themselves as 130lbs.
Gaoshang Xiongshou
Attempts to change societal opinion about the whole of female bodybuilding have not been met with much acceptance (although some is better than none). Should the good fight continue to be fought, or should it be left alone?
Jen Cowan
I kind of disagree with that. If we are talking about athletes in general, I thing that female athletes, and females with muscle are much more accepted now than they were twenty years ago, and the size of female muscle – or what is seen as acceptable – has grown. Twenty years ago, Rachel McLish was considered huge, and by today's standards, she'd just be in really good shape. I think as a society, yeah, they have begun to accept more muscular females. Female bodybuilding, I think there is a huge misconception, and I don't think that many people really care about bodybuilding, so I don't know that it really matters whether we're going to be able to change a lot of people's minds because they don't know… and they don't want to know. I think female bodybuilding and male bodybuilding both have a lot of negative connotations because of the drug use. I think publications like Oxygen help a little bit, and figure competitions definitely help bring it a little more mainstream. I definitely think that showcasing muscular females, and I think the more that we get a good image out there… I think it's just important because I don't want to tell people that I'm a bodybuilder, and they think it's a bad thing.
Gaoshang Xiongshou
There's always talk of bodybuilding and mainstream acceptance. Do you think, especially where women's bodybuilding is concerned, that the whole thought process is not about taking a financially lucrative position, but more about just an acceptance without being ostracized or vilified for their decision to bodybuild?
Jen Cowan
I think a lot of it just depends on who you are. I think there are a lot of girls who want to get into modeling, and show business, or people always wanting to be famous, be in a magazine. I think a lot of people compete because they love competing.; they like pushing themselves. So from my standpoint, I just love to compete. It's obviously not about anything financial. Would it be nice to be able to compete and not have to pay so much? Sure. This is expensive…. the shoes, the food, just everything involved. It would be nice to have the public be more supportive of bodybuilding… I think it's changing a little bit, but I think that is a very personal thing.
Gaoshang Xiongshou
I once heard someone mention you by the nickname 'The Beast'. Is that really your nickname, and how did you get it?
Jen Cowan:
I started at a new school, and I was a senior, and we were running against one of our all-time rivals, and there was a freshman on their team, and we were both running the 100. She had started a rumor at some point in the season that I had beat up a couple of girls on her team. I never beat up anybody. I guess it was because I was pretty muscular. And she said she could not run in that heat in the 100 because the beast was in it. And so her coach ended up telling my coach, who ended up telling me, and that's kind of where it originated from. And then after college, I was lifting with The Blockhead (he posts on other message boards), and we were doing legs, and he started calling me The Beast. So it kinda just stuck. And whenever someone would lift with me, they'd say "Man, you're a BEAST!" because I would really push hard, especially on legs.
Gaoshang Xiongshou
Do you carry that mindset into the gym with you?
Jen Cowan
Oh yeah, for sure. I love lifting. I really, really like getting into the gym and hitting it hard. It's my release. It's hard because as an athlete, once you graduate from college, there just aren't a lot of choices to be competitive. So bodybuilding is a strange sport, if you can call it a sport as opposed to a contest. You train really hard, and put all of yourself into it, and then at the show, you're just kinda sitting around waiting. You know, you're flexing, you're going through your mandatory poses, but it's not really a competition because you're being judged; you're really not competing against another person. You're competing more against yourself. So I think to make it more like a sport or an athletic event, you have to go into the gym with the right mindset, because that really is your chance to compete. And again, you still just compete with yourself. But it's a measure… a measure of your strength, and a measure of your ability, whereas the show is more somebody's perspective on your physique.
Gaoshang Xiongshou
What did you do differently from last year at the Team U up until the Jr. USA's this year?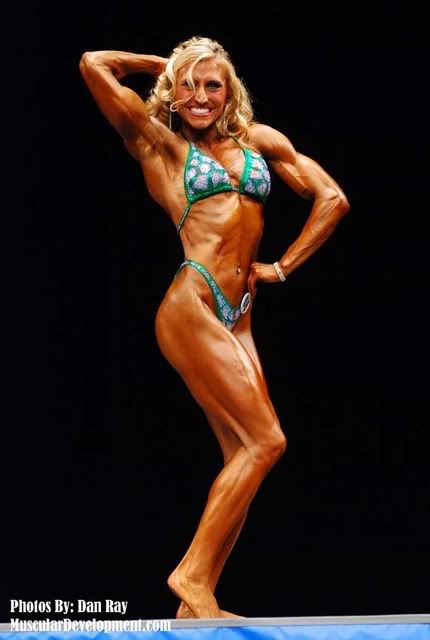 *2007 Team Universe (left), 2008 Junior USA's (right)
Jen Cowan
I've always lifted as hard as I could, so it's not that my lifting changed so much. Going into the show, I hired Dave Palumbo to do my diet, and he probably is very well known for the amount of cardio he has his athletes do. So my diet was quite a bit different going into the show, and I hadn't done any cardio… zero… going into Team U, and going into the show this year, I did over two hours a day for the last six to eight weeks.
Gaoshang Xiongshou
It seems like a lot of competitors are crossovers from other sports. Swimming, track, and in your case, wrestling. Do you think that coming into bodybuilding somewhat experienced as an athlete helped you in bodybuilding?
Jen Cowan
Definitely. In wrestling and track, you're still sacrificing a part of yourself. You're still training, you train everyday, in college, you do a lot of two-a-days, so, definitely, as an athlete, you are more competitive, and you are more competitive with yourself. It's easier to train because I know what to do when I go to the gym. We had weight coaches and trainers when we were in high school and college. So I think it is a definite advantage in that regard. More than anything, I think it is your mindset. I think being as competitive as you have to be to be a collegiate athlete, and wanting to do a show, I think the discipline it takes to do bodybuilding… with that background, it gives you so much help.
Gaoshang Xiongshou
What about for people in general? Is it going to be a big advantage for them, or is it a case by case situation? You may have some people who excel in one sport, and they are naturals, but then they cross over into bodybuilding, and for whatever reason, it just does not work out for them.
Jen Cowan
I think that bodybuilding is more difficult because it takes a huge amount of sacrifice. It really does change your life for the months that you are training for the show because it is so regimented. You have to eat every three hours. I was working out over three hours a day. That meant that I had to get up earlier, or maybe move things around in my schedule, and I don't think that a lot of people will make that sacrifice. And I think that as a competitor, I think that I've run into this problem, and I've heard so many people run into the problem that it's hard for their significant other to support that decision just because it is such a sacrifice of their life. How many competitors have I talked to that their relationship is going South because their husband or their boyfriend doesn't understand why they don't get anymore time. All the time is kinda invested in themselves… you're tired when you get home, you have to cook for the next day, you don't have any time for anybody… it's a selfish sport, and not a lot of people can do it. I think it's a lot different than almost everything out there, because it's not just the training. It's the training, the diet, the hours spent in the gym, and you're doing it, but you're not making any money doing it. It's a very, very expensive hobby. So, I think for many people, athletes and non-athletes, I think that sacrifice is too much.
Gaoshang Xiongshou
Do you think it is better if the competitor is involved with another competitor, or at least someone who is sympathetic to what's going on in the sport and the preparation?
Jen Cowan
Yeah, I think so, because then you understand it. But I think every relationship is so different, so I'm sure you could find someone who is very supportive of you who's never done a show before. I think doing a show makes you realize how much of a sacrifice it is, but if you can find someone who is very passionate about something… maybe they play in a band or maybe they're a snowboarder, or they're into racing, or something that they're very, very passionate about that is their hobby, then they can kind of accept it more. I think it's a lot harder when somebody just has his or her job to look forward to and doesn't really have a hobby that they're passionate about to understand your mindset and giving yourself so much to something that you're not earning a living doing.
Gaoshang Xiongshou
Anything else you would care to add for the readers of musculardevelopment.com?
Jen Cowan
I would really like to say 'thank you' to Pride Nutrition. They have really helped me out through the past few years, and supported me. And I really hope that more figure competitors do decide to try out one [bodybuilding] show… you know, see if they like it. It does give you the opportunity to showcase who you are, and that makes it a lot more fun. That's a lot of work to get up there for four quarter turns. There's the fact that you can still be very feminine and be a bodybuilder, and get your makeup done, and do your hair, and walk out there and really bring a great presence to the stage… I think that will make all your training more fulfilling. And… thank you Dave, for doing my diet. And I will be competing again at Team Universe next year.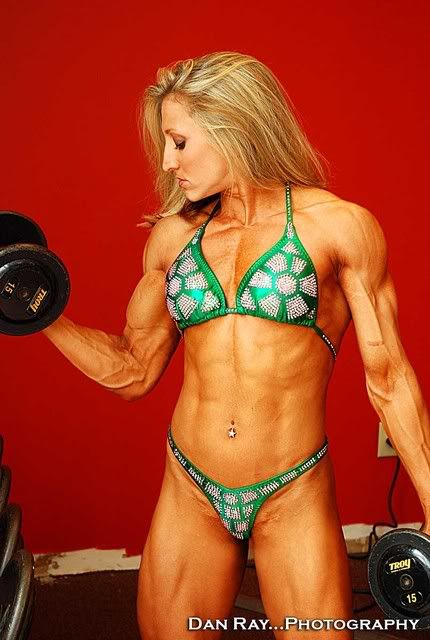 Gaoshang Xiongshou
And we will definitely be looking for you next year. Thank you so much for these few moments to answer some questions for the members of musculardevelopment.com. It has been a great pleasure!
Competition History:
2008 NPC Junior USA: Lightweight and Overall Winner
2007 NPC Team Universe Bodybuilding and Fitness Championships: Middleweight, 5th
2007 NPC Illinois State: Middleweight and Overall Winner
2007 NGA Heart of America: Heavyweight Winner and Novice Overall
2007 INBF Wisconsin: Heavyweight Winner
2006 NPC Illinois State Figure Short Winner
2006 NGA Heart of America: Figure Medium Winner
2006 NPC Team Universe: 11th Figure Class C
2006 NPC USA's: 9th Figure Class C
2005 NPC Illinois State Figure Short 3rd
2005 NPC Mid-Illinois Figure Short 2nd
2005 NPC Mid-Continental Short 1st and Overall