After securing her pro card with a 4th place at the Arnold Amateur in 2010, two-time UKBFF British Champion Sharon Madderson has been busy as she prepares for her long awaited pro debut at the Chicago Pro in a few week -
Sharon - "
I am very excited about my return to competition this year Giles - after having a couple of shows cancelled last year I was a little down, but everything happens for a reason. My main priority since I competed at the Arnold amateurs (she took 4th) has been my thighs, which although have always suited my frame they would never threaten at a higher pro level - so - I've been punishing them and I hope the judges will recognize a significant change. I always train hard and never miss workouts - but this time - I went back to basics with my prep starting January 4th as normal allowing me plenty of time to make all the necessary changes physically and mentally without suffering from any stress. My weight at this stage has not altered too much with 14 weeks to go, but as my composition has altered my condition is now coming in as expected, my current weight is 70.9kg. The last time on stage at the Arnolds I was 62.3kg. I will be competing at the Chicago Pro Show early July and maybe the Tampa show in August too. I have also been working on my new website too which will be live very soon with lots of interaction with my fan base, and I have been busy with my new video library and pics. So it's been a very busy couple of years, but I feel it is the right time for me to return to the bodybuilding stage again and I am really looking forward to the challenges ahead
."
Here's some shots I took of Sharon back in 2010 at her gym in Blythe in the North East of England...
Pics by Giles...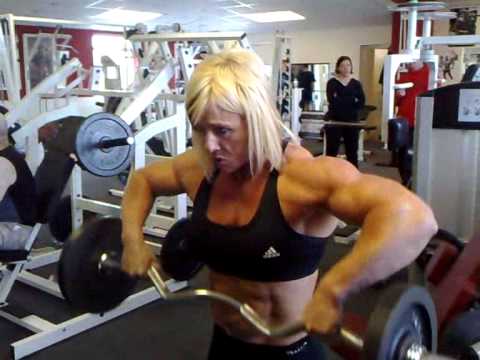 http://www.sharonmadderson.com