1-14-11 Triceps and Biceps
SUper light maintence session. Arms still down to 18 1/4 cold (down 3/4 an inch), just wanted to get some blood in there. WIll probably stay out of the gym til monday. Basically taking this week off.
Got some results from my MRI full spinal scan, by phone. Will meet with doc on tuesday. Spinal injections to reduce inflammation was the suggestion so far.
Have some new ruptured disks or atleast ones I never got scanned before, probably new since ive been back from my old injuries, 2 year lay off in 2004.
Just know how to adapt better and deal with shit now. It was suggested that the numbness in my hands, legs body is being caused by these new ruptures. One in cervical neck area, one in T-7 (the other one in the thoracic seems to have healed), another one in lumbar region. I was told these are small bulges and that some of them are putting pressure on the spinal chord to cause this. Im still not sure if its that or the elbow issues but Id think likely its the spinal problem causing the numbness. The shots may reduce the inflammation. We will see
:
(209 lbs after 2 meals)
Alternating DB Curls:
35x15 warm
Curved Bar Pressdowns:
70x100 warm
Dropset: (no rest til line)
90x15
130x15
170x15
200x10
into
Alt DB curls:
55x10
into
DB Hammer curls:
55x8
---------
Curved bar pressdowns:
Dropset: No rest til the line
200x20
Into
Alt DB Curls
55x8-10
into
DB Hammers
55x6-8
----------
Alt DB Curls:
45x20
DB Hammers
50 or 55x10
Curved Bar Pressdowns:
Dropset: No rest til line
200x10
170x15
150x15
130x10
120x10
110x10
100x10
90x10
into
Alt DB curls
55x6
Into
DB Hammers
55x6
---------
Alt DB Curls:
45x12
Curved Bar Pressdowns:
150x12
Double Biceps style cable curls: (weight is per side)
70x15
80x20
90x12
Super light still alot of strains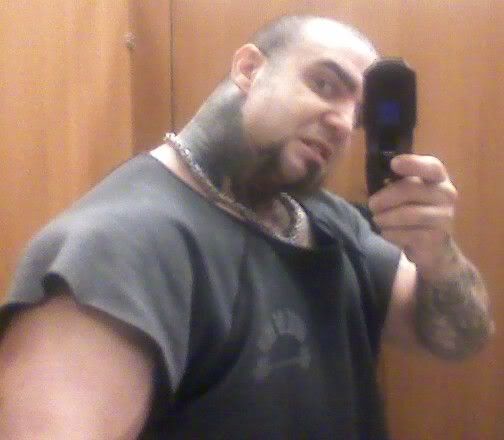 KILL SHIT